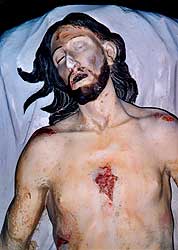 The bust of the statue before the restoration
As an example of the necessary procedure for a right restoration, you can read part of the report of the restoration of the "Dead Christ" ancd see some photos.
The wooden statue representing the "Dead Christ" is datable around the second half of the XVIII century. Of clear neapolitan workmanship, it shows the vigorous body of the Christ laid down presumably on a stone and covered by a loin-cloth.
From a preliminary analysis, it appears urgent the disinfestation from the xilofagous insects by that the Christ is entirely infested, so it is required to expose it to [...].
Executed the preliminary photografic documentation, the infrared and ultraviolet lightning verify the real state of the preservation of the sculpture, which is spongy inside.
A previous inexperienced restoration not only has tempered the original pictorial cromaticism but also, with an ingenuous operation, has hidden the serious problem of the wood-worms. The statue, in a lot of zones, is found covered by paper sticked with adhesive and so plastered and painted. From that a laborious cleaning with [...].
Where it needs, the raised pictorical film has been fixed with infiltrations of [...]. A lot of time needed to consolidate the spongy wood with continuos brushes of [...].
Prepared the support in this way, we provided to the essential plasterings with [...], so we proceeded to veil the chromatic lacks of balance with an attentive pictorical integration.
The protective painting with retouching paint had concluded the restoration.

The statue of the "Dead Christ" before the restoration (left) and after (right)

Details of the statue before the restoration